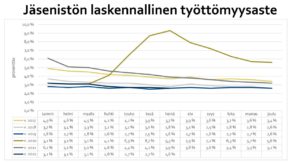 The number of earnings-related unemployment allowance recipients decreased in the summer months in KOKO. In July, the unemployment fund paid earnings-related unemployment allowance to a total of 6,278 members. This is 1.9 per cent lower than in June, when there were 6,400 recipients of earnings-related unemployment allowance. In July 2021, the number of benefit recipients was 2,805 higher than in July this year.
The unemployment rate among KOKO members fell to 2.6% in July, which is at the same level as in the summer of 2019. The unemployment rate has fallen steadily throughout the early part of 2022, in January still standing at 3.2 per cent. In recent years, the unemployment rate among the unemployment fund members has peaked in July 2020, when 9.3 percent of members were benefit recipients.
KOKO received 697 first-time applications in July, which is slightly more than in July 2021, when the unemployment fund received 627 first-time applications. In June, a total of 653 first-time applications were received. All in all, the unemployment fund received 7,109 different applications for daily allowances and benefits in June and 7,482 in July.
Membership exceeds 240,000
The number KOKO members has been growing steadily over a long period of time. In 2020, the coronavirus pandemic caused a clear spike in the number of membership applications, but the growth has continued even after that.
During 2022, KOKO has been joined by over 3,100 new members. In June, the limit of 240,000 members was exceeded and by the end of July there were already 240 729 members. A warm welcome to all our new members!
Read more about the statistics for June and July in our revised statistical compilation, which you can find here (only in Finnish).