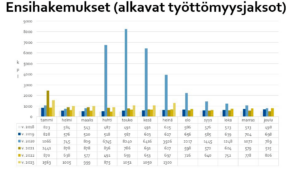 First-time applications received by the KOKO fund 2018 – 2023
The number of first-time applications in the KOKO fund has been at a higher level than in the previous year throughout the past year. The fund also received a considerably higher number of new unemployment allowance applications this summer than in the summer of 2022.
In June-July, KOKO received a total of 2,350 first-time applications, which is 74% more than in the corresponding period a year earlier. In July alone, almost as many first-time applications were received as in June-July 2022 combined.
In contrast, growth in the number of follow-up applications received monthly has been more moderate. During the summer months, approximately 10% more follow-up applications were received by the fund than in the previous summer. For this reason, the number of members receiving earnings-related unemployment allowance increased only slightly on the previous year.
In July, KOKO paid daily allowance to 6,936 members, compared with 6,278 a year earlier. The number of benefit recipients grew by 3.5% from June. The imputed unemployment rate of KOKO members was 2.8% in July (7/2022: 2.6%).
Read more about the statistics for June and July: Information about the KOKO fund – Statistics (available only in Finnish).